Cross Rhodes' Onsite BIM Office
Cross Rhodes provides solutions to the increasing need for onsite technology that supports building information modeling (BIM) processes and other technology demands during design and construction phases. Modular units that are outfitted with technology and furniture that enables you to work smarter and better address:
BIM adoption
Document coordination
Collaboration
Field management
Scheduling
Site conflicts
Digital measure & layout
Submittals
Project closeout
Available Equipment Bundles
Large and small format printers, scanners
50, 42, 22 inch LCD monitors
Software, iPad®, SMART™ Boards
Delivery and installation
Network configurations
20# white bond paper and toner
Full service maintenance contract including parts and labor
Available Technology Solutions
Project website portal (more secure and accessible than FTP)
RFI, submittal and change capture
Remote scheduling services
Accountability, security, transparency and full audit trail
Electronic project closeout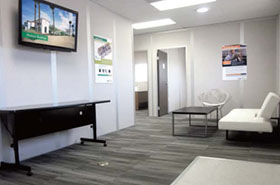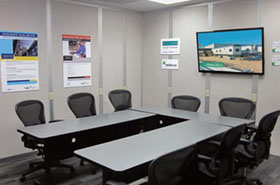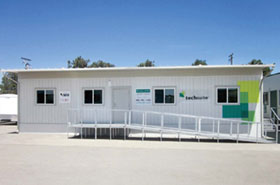 Construction Jobsite Trailers - Working Smart Goes Modular
Marry the technology needed on site with the flexibility and mobility of a modular unit.
1
Create a clean, functional interior floor plan that supports a hi-tech atmosphere
2
Determine the technology you need
3
Deliver, install and equip the unit on your job site
What's inside Construction Jobsite Trailers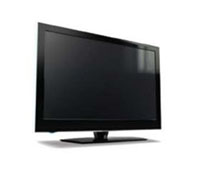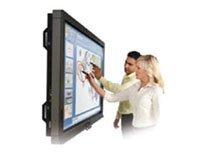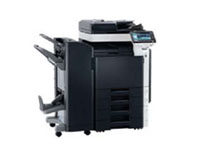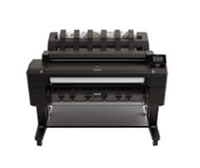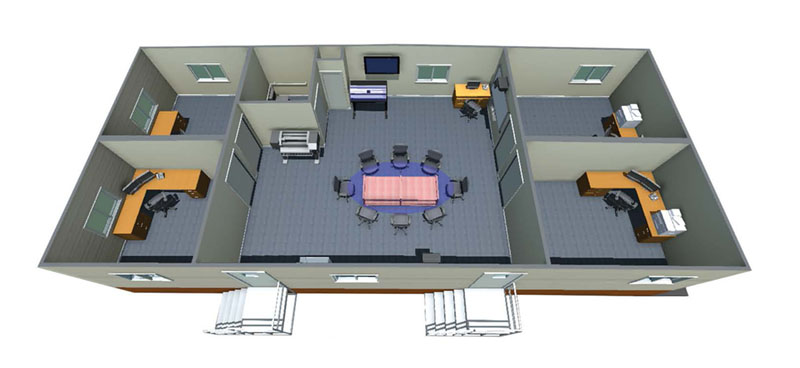 60, 50, 42, 22 inch LCD monitors
FEATURES
High definition LCD monitors
Display "D" size drawings at full scale
Connect for internet conferencing
Network capable
BENEFITS
Devices are set to optimize coordination
Review drawings and models at scale
Easy collaboration at the site or office
Flexible installation to your specs

Small format printers/copiers
FEATURES
Print, scan and copy small format documents
Print half size drawings
Scan to email and other locations
Network capabilities
Small footprint
BENEFITS
Instantly duplicate or archive all documents
Easily distribute drawings to key trades
Connect for internet conferencing
Automate document workflow
Print from anywhere at the site

Interactive whiteboard
FEATURES
Commercial-grade, touch enabled display
Multi-touch surface with object awareness
Freestyle interaction and touch gestures
BENEFITS
Multiple users can collaborate at once
Intuitive gestures like zoom, toss and rotate
Drawing redlining is saved and easily shared
Simplified BIM collaboration

Large format printers/scanners
FEATURES
Print, scan and copy large format documents
High resolution color scan and print
Scan to email and other locations
Network capabilities
Small footprint
BENEFITS
Capture shop drawings and mark ups for closeout
Simplify coordination and collaboration
Print from anywhere at the site
Want more info?
Talk to one of our experts today
Contact Us!